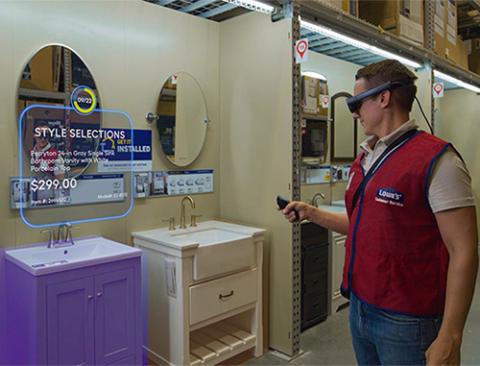 Lowe's 2023 technology plans include developing a "digital twin" solution.
Wayfair, Lowe's and Charlotte Tilbury are all poised for groundbreaking technology achievements this year.
As we begin 2023, it's worth identifying a few retailers whose technology-related activities during 2022 suggest continuing innovation will occur in 2023. Following is a brief look at why the industry should keep a close eye on Wayfair, Lowe's, and Charlotte Tilbury in the next 12 months.
Wayfair
Direct-to-consumer online home furnishings retailer Wayfair Inc. is shifting its enterprise technology strategy to a cloud and artificial intelligence (AI)-based model in an effort to promote agility and innovation. In October 2021, Wayfair completed a full migration of its data center applications and services to a Google Cloud foundation.
The company is also tackling supply chain issues such as demand spikes, storage, and on-time fulfillment with artificial intelligence (AI) solutions. This effort includes infusion of AI into its demand forecasting models.
Looking ahead into 2023, Wayfair plans to utilize its new Google Cloud infrastructure to handle burst capacity during major sales events such as its annual "Way Day" online sales extravaganza. The retailer also intends scale new uses of AI and machine learning (ML) for uses beyond supply chain, such as fraud detection to personalized customer outreach.
Meanwhile, in its supply chain technology area, Wayfair is working on an AI-based overlay that will sit on top of the statistical/operations research models, as well as new geographic sorting (geosort) capabilities that leverage machine learning to identify and boost relevant products that are closer to customers. With geosort technology, Wayfair believes it can reduce the average number of mile a product travels to a customer from 1,000 to less than 250, without impacting item relevance. 
Lowe's
Lowe's Cos. Inc. is starting off 2023 by centralizing its technology development activities in a new "center of excellence." The home improvement giant recently opened a 357,000-sq.-ft. tech hub in Charlotte, N.C., close to light rail and other amenities. The company says the new facility is part of its commitment to becoming the most customer-centric omnichannel retailer.
L owe's says it will utilize the new tech hub to continue to explore how it applies emerging technology to its business. One specific project the company has publicly said it will continue managing at the facility is its interactive virtual model, or "digital twin," it has created two of its stores.
The home improvement giant is leveraging technology from Nvidia to create photorealistic digital replicas of the stores to enable store employees to visualize and interact with nearly all of a store's digital data.
[Read more:  Lowe's tests 'digital twin' of two physical stores ]
The company is also developing its end-to-end room scanning, measurement and estimate tool called " Measure Your Space " at the facility. Customers can leverage the feature in the Lowe's iOS app.
Charlotte Tilbury
Vertical beauty retailer Charlotte Tilbury is a pioneer in the still-emerging niche of metaverse retail. The company  initially launched  a digitalized version of its brick-and-mortar store, leveraging Obsess technology, in November 2020. The Obsess  virtual and augmented reality  solution enables retailers to design branded, 3D virtual retail experiences.
In the two years since, Charlotte Tilbury has added numerous features to its metaverse commerce offering, including a virtual 3D Shop with Friends solution and branded customer avatars. Within the virtual store, customers can explore, shop, receive personalized advice and product recommendations, join live events, and watch makeup and skincare tutorials.
Charlotte Tilbury views its metaverse retailing efforts as a way to truly operate as an omnichannel business and offer its customers an immersive, 360-degree experience whenever and wherever they come into contact with the brand. As metaverse commerce continues expanding in 2023, it is almost certain Charlotte Tilbury will go on playing a leading role in the space.